Velouria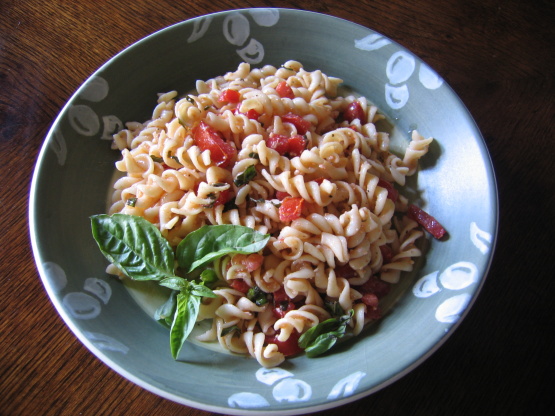 I got the basis for this recipe from my cousin's wife, who absolutely adores the taste of fresh basil! This is a great, simple summer pasta salad, with a nice light blend of flavors. FRESH basil is a must on this one!! This salad is great alongside BBQ chicken. Easy, and yummy!! Prep. time includes marinating time.

Manda, as I sit here eating this delicious pasta salad I will tell you that this recipe is excellent! So very easy to make and so very full of flavor! I do love a good pasta salad and this is one of the best, most refreshing ones I have tried. This would be great for a picnic, summertime supper or even as a quick lunch the next day! Could very easily be packed into a lunch to take along. Thank you for submitting this wonderful recipe, Manda! I will definitely be making this one again!
Mix together the tomatoes, garlic, salt, pepper, olive oil, and basil.
Refrigerate 2 hours.
Meanwhile, cook pasta according to package directions, and rinse under cold water; drain.
Mix pasta with tomato mixture until well-combined.
Sprinkle with Parmesan cheese.
Serve with additional Parmesan, if desired.