Tomato-Balsamic Barbecued Chicken
Pneuma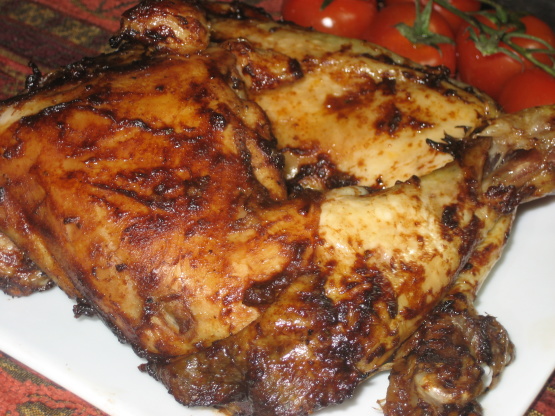 This Mediterranean-inspired recipe was posted in my local paper. This chicken has a flavorful, tangy glaze that takes advantage of pre-seasoned tomato paste and the complex sweet acidity of balsamic vinegar. Enjoy.

We made this chicken last night for a BBQ we were having. It was a hit! The chicken was very flavorful and done to perfection. I used all chicken thighs, as I found a 5 lb package. The only modification I made was to use organic tomato paste, as one of my guests has Celiac's and the basil and garlic pastes that were not organic contained gluten. Therefore, we added some basil and garlic to the sauce. This recipe is a keeper and one I will make again. Thanks!
Preheat oven to 375 degrees.
To make the sauce: In a small bowl, whisk together the tomato paste, balsamic vinegar, olive oil, garlic, sugar, salt and pepper. Set aside.
Season the chicken with salt and pepper and place on two, rimmed baking sheets. Bake for 30 minutes.
Meanwhile, preheat a gas grill to medium-high or prepare a charcoal fire.
Remove chicken from oven and cool for 5 minutes. If desired, remove the skin. Brush the chicken generously with the tomato-balsamic sauce.
Grill the chicken, turning and basting frequently until browned and cooked through, about 15 to 20 minutes.