Tomato and Artichoke Chicken Breasts
Derf2440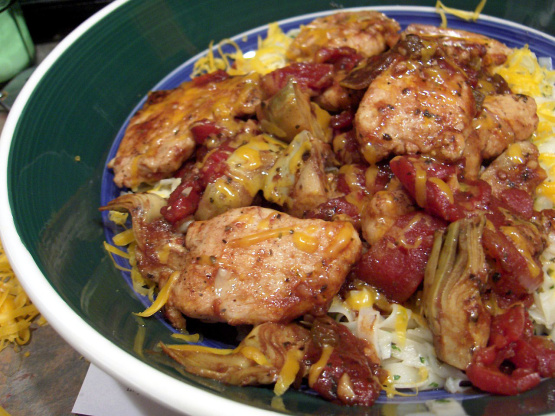 Very easy topping to your basic chicken breast - found this in Woman's Day magazine :)

I've made this dish several times now and it always gets rave reviews. I usually cut the chicken into bite size pieces before cooking and serve the dish over linguine. For the sauce I add some additional fresh basil and oregano from the garden, and some sliced mushrooms. If I'm serving more than 2 people I double the sauce. As a pasta sauce some people may like this with slightly less balsalmic than the recipe calls for.
Mix flour, salt and pepper in gallon-size plastic food bag. Add chicken, close bag and shake to coat.
Heat oil in large non-stick skillet. Add chicken and, turning once, cook 8 - 10 minutes or until golden and barely pink in center. Remove to a serving platter and cover to keep warm.
In pan, add diced tomatoes, artichoke hearts and balsamic vinegar. Bring to a simmer, cook 3 minutes to blend flavors. Spoon on chicken, sprinkle with parmesan cheese and serve.