Tofu Scramble with Fresh Herbs
digifoo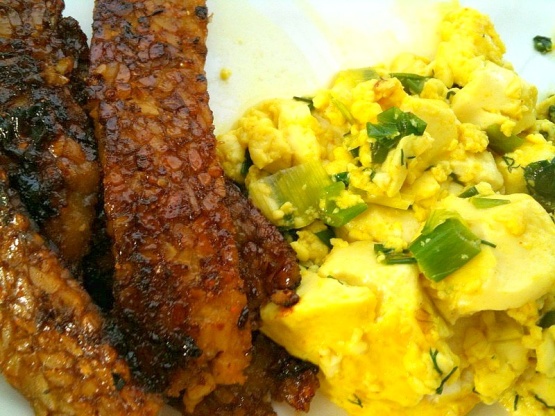 I'm always looking for a good tofu recipe and I like the way the turmeric makes this look like real eggs. Try this, you just may like it!!!
Cut tofu block in half horizontally, then cut in half lengthwise, keeping block intact.
One at a time, take a piece of tofu in your hand.
Holding it over sink, squeeze tofu gently but firmly until it crumbles slightly and water drips out.
When about half the moisture has been removed, place tofu in bowl.
Repeat until all tofu has been squeezed.
In nonstick skillet, heat oil over medium-high heat.
Add scallions.
Stir just until they sizzle, 30 seconds.
Add turmeric, salt and tofu.
Stir with wooden spoon, breaking up tofu, until it is evenly golden and moist, about 1 minute.
Mix in basil, chives, dill and parsley.
Stir gently until tofu looks like well-set scrambled eggs, about 1 minute.
Serve immediately.
Salt and pepper to taste.
Enjoy!