Toffee Squares With Toasted Pecans
alligirl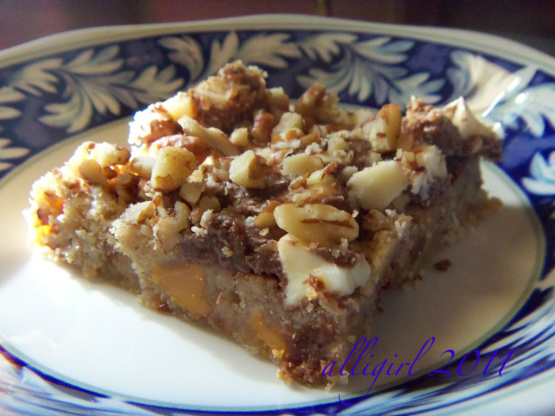 These are lovely, a nice addition to anyone's cookie tray. Is it a cookie, a square or is it candy?--you decide.

I'm not rating these right now, as I made a mistake; I baked @350, in a glass dish. I should have dropped the temperature by 25 degrees, but I was trying to make them quickly as I had company coming. They were a little 'done', but still tasty. I also threw some white chocolate chips on top, as I had a few extra to use. The taste is great, but would probably be better, if I had remembered the 'baking rules.' Really enjoyed the taste of the butterscotch chips! I have some cinnamon chips, and may add a few of those next time. I will make them again, and re-review then...Sorry, Baby Kato, but thank you for sharing this delicious recipe.
Preheat oven to 350°.
Grease a 13x9x2-inch baking pan.
For the Squares - In a large bowl, combine, flour, sugar, butter, cinnamon and vanilla.
Use a mixer beat on low speed for 3 minutes, don't forget to scrape the bottom of the bowl often until mixture is crumbly.
Add nuts, chocolate and butterscotch chips to the mixture.
Press dough into the bottom of prepared pan.
Bake 30 minutes.
For the Topping - Sprinkle chocolate chips over the hot squares.
Let stand for 5 minutes, the chocolate chips will melt.
Swirl partially melted chips with knife to create a marbled effect and sprinkle pecans on top.
Allow to cool completely before cutting into squares and ENJOY!