Toffee Bars (Or Nut Bars)
alligirl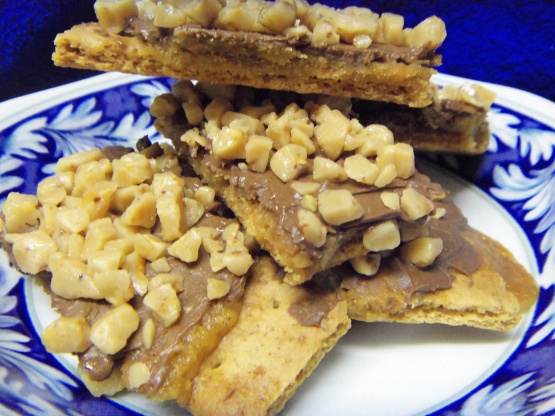 A wonderful, graham cracker based chocolate toffee bar that will delight your taste buds! I'm still trying to discover who brought these to our office Cookie Swap party! They were kind enough to share the recipe, so I'm sharing it as well. The version I had was with nuts, so I don't even know if there was any toffee in it!

These were really good; I made the 'toffee' version, and they are delish! A little chocolate, some toffee bits - how could you go wrong? I'm glad I didn't make the whole recipe, as I would just eat them all myself! Thanks for sharing a great recipe, gracefire.
Preheat oven to 400 degrees F.
LIne a 10x15-inch baking pan with foil.
Arrange graham crackers in a single layer in the prepared pan.
Combine the butter and brown sugar in a saucepan. Bring to a boil.
Boil for exactly 3 minutes, stirring occasionally. Drizzle over the graham crackers.
Bake in preheated oven for exactly 5 minutes. Remove from the oven. Sprinkle with the chocolate chips. After 1 minute, spread with a buttered spatula. Sprinkle with the toffee chips.
Cool to room temperature. Chill until set. Cut or break into bars.
Store the bars, covered, in the refrigerator.