Toasted Sandwich (Without the Toastie Maker)
ImPat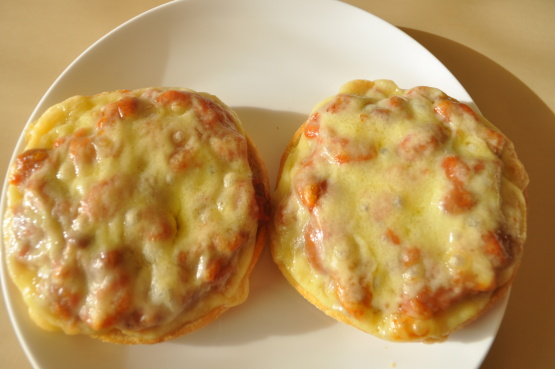 I didn't know what to call this, I made it up for lunch today as I was bored. The thing it reminded me of most was a toasted sandwich. it is easily adapted to wheat/gluten free. pure comfort food

Top Review by ImPat
I really enjoyed this for breakfast this morning thank you. As we don't get dairylea in Australia and the equivalent type of cheese by Kraft I don't like (call it plastic cheese) I used a smooth creamy ricotta and for the baked beans I used my recipe of recipe #226233 which has bacon in it so didn't use the ham. I used a sharp vintage cheddar and aged parmesan and the taste of the 3 cheeses with the smokiness of the baked beans with the bacon on the warm soft english muffin was delectable. Thank you Perfect Pixie, made for ZAAR Chef Alphabet Soup.
Cut muffin in half, toast and butter if you feel necessary (I didn't).
Heat the baked beans gently.
Place the muffin halves in a oven-proof dish it will cover the base of.
Place a Dairylea slice on the muffin, then the ham.
Top with baked beans.
Sprinkle with parmesan then cheddar.
Heat for about 10 minutes or until cheese is melted.
NOTE: I added breadcrumbs but felt that they took too long to brown, it does add a bit of crunch though if you want to add to the topping.