Toasted Almond and Quinoa Pilaf
UmmBinat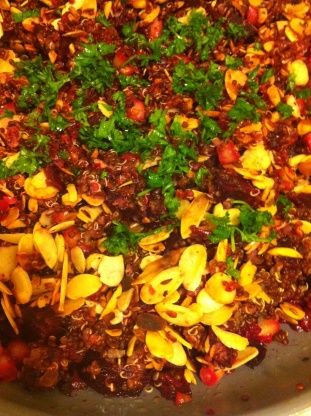 From the LCBO's Food&Drink, Autumn 2011. This pilaf is surprisingly flavorful and makes for lovely presentation. It is easily made vegetarian by substituting vegetable stock. Though it is meant to be made with quinoa and almonds, I had millet and flax seed on hand, and it was still delicious. To use millet, add an extra 1/2 c of stock and give it an extra 5 minutes of both cooking and covered time.

Healthy tasting crunch that is really good. I used a homemade organic beef vegetable stock as that us what I had in hand, organic red quinoa, organic extra virgin olive oil, organic yellow onion instead of the shallot, organic garlic clove, sea salt, to taste, organic yellow beans instead of carrots as that is what I had, organic beets, but I didn't add green onion ( thought there was some but there wasn't), plus the rest of the ingredients.
In a medium sauce pan, bring broth to boil over medium-high heat. Add drained quinoa. Cover and reduce heat, simmering until most of the liquid has been absorbed, about 15 minutes (20 for millet). Remove from heat and let stand covered for 10 minutes (15 for millet). Fluff with fork and set aside.
In a large skillet, heat oil over medium-high heat. Add shallots and cook just until tender, about 3 minutes. Add garlic, salt, and pepper and cook until fragrant but not browned, about 1 minute. Add carrots, beets, and green onions, tossing to coat and cook 2 minutes. Stir in almonds and quinoa and toss gently until well combined. Sprinkle with parsley and serve warm or at room temperature. (Crumbled blue cheese optional topping).