Boomette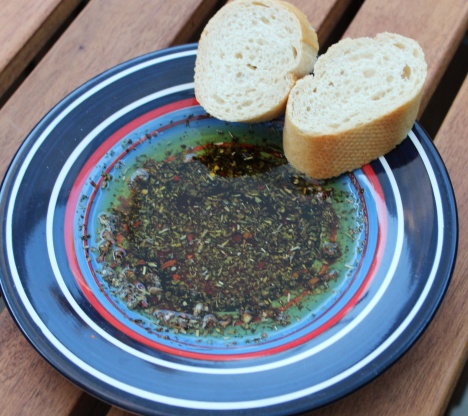 Pretty much the most amazing flavors on Earth..... I snagged the recipe ingredients to this DIVINE dipping oil from the sommelier at my new favorite restaurant on the planet- Celadon, in Napa Valley. This oil is sooooooo darn good- just grab a fresh crusty baguette and dig in! ***(The ingredients below are not in exact measurements- add a little of this and a little of that until the flavors match your taste. If you make in a larger batch, it tastes even better the next day!)

This was very good and I enjoyed having a new use for herbes de provance. It has plenty of flavor & went well with homemade french bread. Next time I will use less balsamic vinegar in the mix as some diners didn't enjoy the strong flavor. I added a few more red peppers. Thank you for sharing the recipe!
1

teaspoon herbes de provence
1⁄2 teaspoon mixed Italian herbs

1

garlic clove, minced

1

pinch chili pepper flakes
1⁄4 teaspoon salt
1⁄4 teaspoon pepper

4

tablespoons extra virgin olive oil
1 1⁄2 tablespoons balsamic vinegar
Place all of the ingredients on a plate, swirl with a spoon or fork, let sit for at least 10 minutes before digging in!