Tiramisu (No Raw Eggs Here!)
kaym8907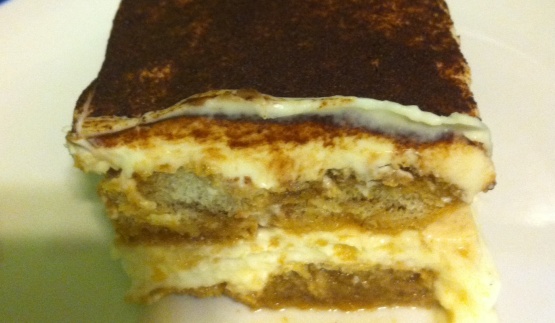 I was looking for a Tiramisu recipe with NO raw eggs! This one is simple and can be made in NO TIME! This recipe is kid friendly too, no cooking involved! Enjoy :)

Top Review by lac925
WOW!!! I tried this recipe for tiramisu, and everyone LOVED it! I never thought such a decadent dessert was this easy to make. You don't even need the liquer - and no one noticed it was missing! I sprinkled cocoa powder in between the layers to give it more of a mocha taste, but this recipe (the very first tiramisu recipe I tried BTW) stands perfectly on its own. I will never get store-bought tiramisu again! Thanks for the AWESOME recipe!!!
Brew the coffee.
In a medium bowl, beat cream and sugar with an electric mixer until soft peaks form.
Add the ROOM TEMPERATURE Mascarpone Cheese into the sugar and cream and mix carefully.
In another bowl pour the warm coffee and dip cookies.
Quickly arranging them side by side over the bottom of a lined loaf pan (Allow the plastic wrap to extend on the sides so you can take it out easily when it is ready to serve).
Layer cookies with the sweet cream and continue layering with another set of cookies (Will allow three layers).
When done layering, cover with plastic wrap, refrigerate and allow at least two hours for it to set. (Over night is even better).
Before serving take it out of the loaf pan remove plastic wrap and sift cocoa powder.
ENJOY! :0 ).