IngridH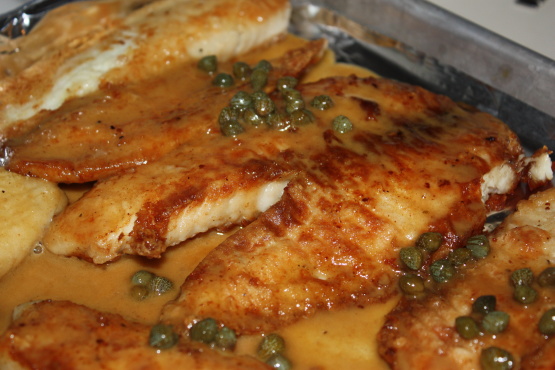 Just finished making this and it was so good I thought I would post it. I started out to make the Chicken or Tilapia Piccata by TheBrownBean #131524, which I have made several times. Got into it and then realized I didn't have any white wine which of course is the base for piccata. The fish was already floured, peppered, etc., so I decided, what the heck, I'll use Marsala wine and see how it works. So this is basically the Piccata recipe with a couple variations other than the wine. The result was outstanding! Nice rich flavor. See what you think!
2

tilapia fillets or 2 similar fish, enough for two servings
1⁄2 cup marsala wine

1 -2

tablespoon lemon juice, depending on your taste

2

tablespoons whole capers

1

teaspoon minced capers

3

tablespoons olive oil

1

tablespoon light cream
flour, to dredge fish
Pepper the fillets and lightly coat them in flour.
Heat olive oil in large pan over medium heat and saute the fish till golden brown on each side and cooked almost through. Remove from pan.
De-glaze the pan with the wine, cook for just a minute and add 2 tablespoons butter and capers. Cook for about 2 minutes reducing mixture just a little.
Add lemon juice, remaining 2 tablespoons butter, and salt to taste.
Add fish back to pan spooning mixture over it and cook till completely done, about a minute or so, and remove to serving plates.
Add the cream (I used Half&Half) and blend in until mixture just coats the back of a spoon. Add more if necessary.
Spoon the sauce over the fish and enjoy!