Tia's Crock Pot Spicy Chicken Cacciatore
loof751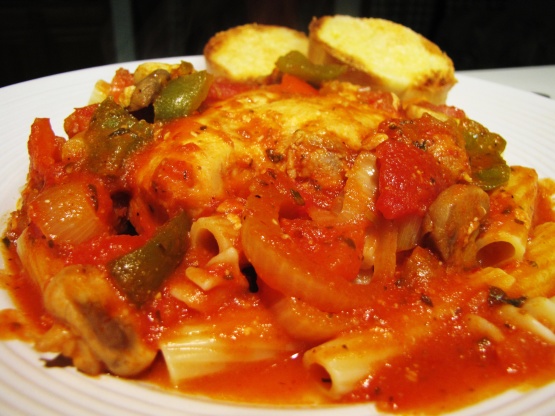 Recipe by Thea
I made this up out of several different recipes. Since we love things fairly spicy it took humdrum to very nice spice!!! Note that I do not brown chicken first...just toss it in the crock pot. Also...I am not very good about measuring...although since zaar membership I am trying harder....so always taste to decide if you need more of a spice. I am also not sure of the crock pot cooking time as I am at home checking it and stirring occasionally...will try and get that down better next time I make it. Enjoy!

WOW - this is fantastic!! We love spicy and this fit the bill. I used boneless skinless breasts, otherwise made just as specified. I thought the cooking time was right on, and I loved that it's a true one-pot dish - just throw everything in the pot and let it go. We just loved this dish - thanks for sharing the recipe!
Place chicken in crock pot bone side up.
Add all seasonings and vegetables on top of chicken, including the optionals if using stop at the butter.
Then add the 2 jars of pasta sauce on top. I cook on high for 3-4 hours depending on how thick the chicken breasts are, stirring occasionally.
When the internal temperature reaches 180°F using a meat thermometer, I remove the chicken and debone, placing meat back into the sauce.
I then add the butter, whipping cream and continue to cook for another hour on warm.
About 10 minutes before serving, I add the parmesan cheese.
Serve over pasta or I use extra wide egg noodles with warm crusty bread!