Thyme Marinated Grilled Asparagus
Debi9400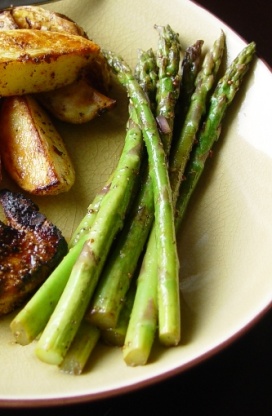 This marinade is a terrific way to add flavor to this delicious vegetable! From Cooking with Caprial, American Bistro Fare cookbook.
Our family loves asparagus and we are always searching for a new recipe. This recipe is lovely, it allows the asparagus to be the star, but the other ingredients are the supporting cast. I did not have the mustard called for so substituted regular mustard and it worked fine. I used fresh thyme out of my herb garden and it complimented the dish well.
Bring 2 quarts of salted water to a boil in a large stockpot. Add asparagus and cook until it is crisp tender, 3 or 4 minutes, depending on the size. Drain and dip in icy cold water. Set aside.
In a bowl combine vinegar, shallots, garlic, thyme, orange juice concentrate, and mustard. Slowly whisk in the oil to blend well. Season with salt and pepper.
Pour mixture over asparagus. Let marinate while you light the coals or start the grill.
To make the grilling easier, you can place the asparagus on skewers, running a skewer through each end of the spear and fitting about 5 spears on each pair of skewers. Grill the asparagus on each side just to mark it, 1 or 2 minutes per side. Remove from the grill. Serve warm or at room temperature. Or, you can just broil them till they start to brown, 3 to 4 minutes.