K9 Owned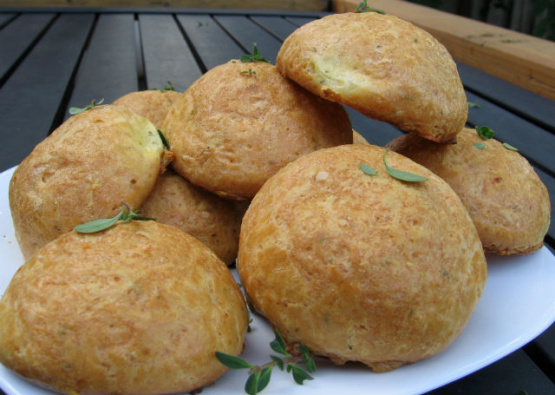 From Bon Appetit. The recipe states that these savory puffs are easily frozen and reheated. Serve half the yield from this recipe at the party, and save the rest for another time. Feel free to mix and match any semi-soft melting cheese such as Gruyere or Fontina with any hard cheese such as Asiago, Parmesan or Manchego. Posted for ZWT 8 - France.

There are only two of us so I split the recipe in half. I'm sorry I did now because these are just delicious! I'm a heat wimp and generally either leave out cayenne or reduce it considerably. This time I used the amount specified and I would urge others to do the same (or increase it if you want a bit of a burn). The cayenne gave it just enough spice to wake up my mouth and the cheese flavours shine right through. They are a breeze to make and and they can be used for snacks, tapas or even with a spaghetti dinner. Definitely a keeper!
Made for The Bistro Babes - ZWT 8
Preheat oven to 400 degrees F. Line 2 large baking sheets with parchment paper. Bring butter and 1 cup water to a boil in a large heavy saucepan. Remove from heat. Add flour, cayenne, and salt; stir vigorously to blend. Return to heat; stir vigorously over medium heat until mixture forms a ball and a thin, dry film forms on the bottom and sides of pan about 1 minute. Transfer mixture to a stand mixer fitted with a paddle attachment. Add 1 cup Gruyere, Asiago and 2 teaspoons thyme; beat on low speed to blend. Add 4 eggs, one at a time, fully incorporating each egg between additions, and scraping down sides of bowl as needed.
Spoon dough into a pastry bag fitted with a 1/2 inch tip or a plastic bag with a 1/2 inch cut diagonally from 1 corner. Pipe dough onto prepared baking sheets in 1 - 1 1/4 inch rounds, spacing 1 inch apart. Whisk remaining egg with 1 tablespoons water in a small bowl. Brush egg wash lightly over rounds, patting down to form rounded tops. Sprinkle with remaining 3 tablespoons Gruyere. Garnish each with a few thyme leaves.
Bake gougeres until puffed and golden brown and centers are cooked through but still moist, 20 - 25 minutes. Let cool slightly and serve.