Throw-It-Together Meatloaf
VickyJ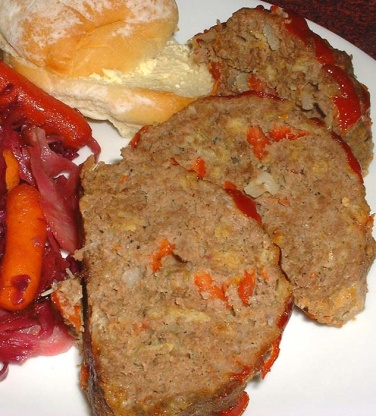 This is a really easy meatloaf. I like it because it stands up well for sandwiches the next day. You can adjust the seasonings or meat combination, if you wish. I added diced tomato, because I had one I wasn't using, and it turned out pretty well. It really added to the flavor and appearance of the loaf. Great for a comfy dinner or make solely for sandwiches.

Vicky great meatloaf! This was wonderful on sandwiches with mustard the next day! I used tomato sauce and cheese Ritz crackers, the teaspoon of salt I didnt add. Very nice flavor!
Preheat oven to 350°.
Sauté onions in small skillet until translucent and let cool a bit.
In a large bowl, combine the rest of the the ingredients with the cooled onion. Shape in to a loaf. Place in a pan. (I put a piece of foil on a sheet pan, sprayed with non-stick cooking spray, and placed the loaf on it). Spread a little ketchup on top for garnish and bake uncovered for 1 hour - 1 hour and 15 minutes, or until done (ovens vary).
Let rest for 5 min before slicing.