The Gobsmacked Leaning Tower of Buffalo Burger
Peter J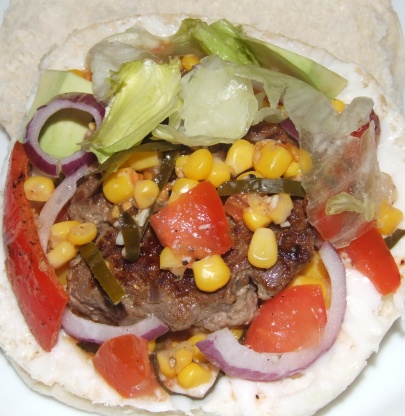 This burger was created by Team Gobsmacked for Zaar World Tour III. We wanted to call it Tequila-ed, yummy, rocking, boob-growing, goooooood, balanced, coloured, flavoured, complete, oniony good, juicy, GOBSMACKED Leaning Tower of Buffalo Southwester Burger, but there are only so many characters you can fit on a ZWT team...er I mean a recipe title. We put our addled heads together and came up with an astounding Buffalo burger that will knock your socks off. We used Out of Out of This World Garlic - Onion Bread Machine Buns for the bread. We also used Corn and Tomato Salsa With Cilantro for the salsa. Finally we used Slam It Down and Smack Yer Gob Sauce in place of spicy mayonnaise. It is WELL WORTH the time to make the extras for this unique burger, and if you don't, Team Gobsmacked may just show up at your door to demand justice!

These were great! We love bison and are always looking for new ideas to make burgers too! I especially liked the avocado and roasted red peppers. Too good! Watch out, these are messy (just like a good burger should be!)!!
Combine buffalo, minced red onion and cumin.
Form into 4 patties.
Grill or fry to desired doneness.
Top each patty with pepper jack cheese and allow to melt before removing burger from heat source.
Smear 1/2 TBS of Slam It Down and Smack Yer Gob Sauce or spicy mayonnaise on each half of the Out of This World Garlic - Onion Bread Machine Buns .
Place a patty on each bun bottom and top each burger evenly with 1/4 C each Corn and Tomato Salsa with Cilantro, avocado, onion, and lettuce.
Squeeze a lime segment over the toppings, and place the "lid" on each burger.
Enjoy (we recommend a nice Margarita to go with it)!