The Broon's Clapshot for Burn's Night
Boomette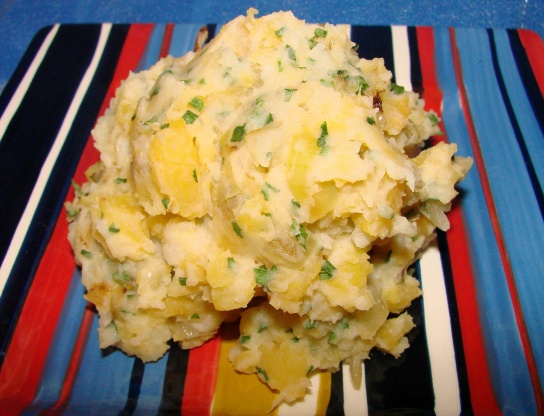 Slightly different from other recipes posted here, this is one from Glasgow and goes well wi the Haggis! NOTE floury potatoes are needed here

this was quite yummy. this is the second time i have made this for my burns night supper. i too let the onions brown a bit, and i add a lot of chives. this year, since i had a package in the freezer of mixed cuber rutabaga and winter squash, i threw both in with the potatoes. the flavor was great. i made it in advance and put it in the oven to heat up. this freezes well too. i put some away in the freezer so a can have an easy casual haggis supper later on.
Boil the potatoes with the swede in lightly salted water until cooked through.
gently fry the onions in 1 oz of the butter until soft but not browned.
mash the potato and swede together with the remaining butter and add the fried onions.
mix in the chives and salt and freshly ground black pepper to taste.
Serve hot with Haggis or oatcakes.