The Best Easiest Egg and Chive Sandwich
DH got me hooked on these, they take 5 min to make before work and oddly enough the microwaved egg is perfect. It is the best tasting egg sandwich I have ever had and a great was to try and keep my chives snipped.
1 egg
1 tablespoon milk
1 pinch dried chili
1 dash garlic salt
bread
Directions
Mix egg and milk well in small microwavable bowl.
Sprinkle with peppers, garlic salt and pepper.
Microwave uncovered for 1 min and 20 seconds on high.
Toast bread, spread each slice with mayonnaise and sprinkle one side generously with finely chopped fresh chives.
Stick egg in the middle and enjoy.
Can add ham too.
Reviews
Most Helpful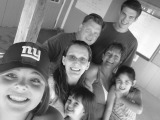 My duaghter and I love these. We add ham and a slice of cheese, and put the chives in with the egg. We also used a toasted bun. No chilis (she's 5!), but used a seasoning blend.
This was okay. I didn't like it as well as I thought I would. The flavor seemed to be lacking something even though it had plenty of spice. I think this would be better with something like bacon, ham or Canadian bacon, and I will add that or a slice of cheese next time. The egg cooked perfectly in the microwave. And it definitely was quick and easy to prepare. Thanks for posting!