Thanksgiving Turkey Gobblers
Lucky13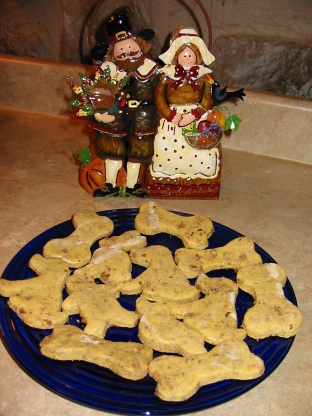 A Thanksgiving treat for the dogs that are a healthier alternative to table scraps. From the "3 Dogs Bakery Cookbook". My little turkeys gobbled them up. ok ok that was a bad pun. Hope your dog enjoys them.
The ladies loved these! I used whole wheat flour and seemed to need a little more water than stated in the recipe. The dough will seem more crumbly than people food, but as long as it holds together when squeezed, you'll be fine.
Preheat oven to 375 degrees.
In a frying pan, cook ground turkey, crumble into small pieces, place on a few paper towels ans set aside.
In a large bowl combine flour and cornmeal.
In another bowl beat egg, oil and water together, after blended add tarragon.
Combine wet and dry ingredients. Fold in ground turkey. Mix together.
Turn dough onto a lightly floured surface. Knead until dough is thoroughly mixed.
Roll out dough to 1/2 inch thick. Cut into shapes.
Place on a greased baking sheet and bake for 15 minutes or until firm.
Cool completely before serving.
Store in an airtight container.
Keep refrigerated.