Tgi Fridays Honey Mustard Sauce
superj78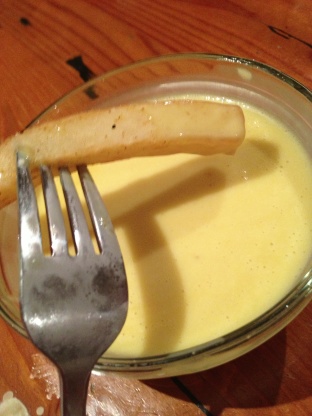 A copycat recipe of Friday's yummy sauce, to eat with chicken fingers. Reviews on other sites recommend leaving out the vinegar, as it makes it too runny for dipping, although should likely leave in when using as dressing. While I haven't tried this copycat recipe yet; Friday's Honey Mustard appeals to me because it has more of a honey taste and less mustard. Good for kids.

This is it!!! Thank you. I bought the supermarket soft garlic breadsticks, which made me think of Fridays. I love to order those with their honey mustard. I tried this recipe after doing much research. I made it exactly as stated, and it was great! Loved dipping my breadsticks in it. My picky husband even loved it. He poured it on his salad, and was a very happy camper. This one's a keeper.
Mix together in bowl with whisk and serve.