Boomette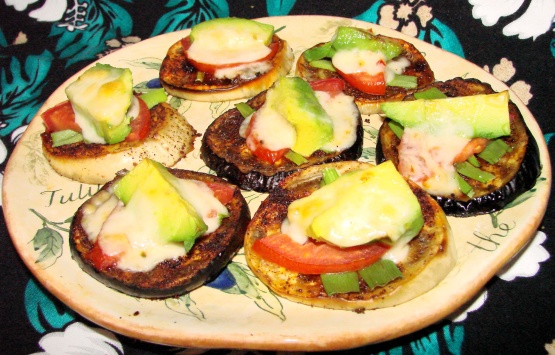 Slices of eggplant are sprinkled with chili powder, baked, then topped with slices of red onion, tomato, avocado and pepper-jack cheese and broiled to melt the cheese. This makes a great side dish with a Southwestern-style dinner. Also great for appetizers. I'm even thinking this would be great for breakfast with a fried egg! I wonder if it would stay on top of the stack? Adapted from Better Homes & Gardens magazine.

I served this as a side and it was delightful. I could have made a meal out of it well.... I guess I did eat more than my share but that left more steak for DH. I love eggplant and this is certainly an eggplant keeper. Prepared in a convection oven and it turned out perfect. Made for PRMR.
Brush both sides of each eggplant slice with the olive oil.
Place on a baking sheet.
Sprinkle the top side of each slice with chili powder.
Bake at 350 degrees about 30 minutes, or until tender.
Remove the baking sheet from the oven; top each eggplant slice with onion, tomato, avocado and cheese. Broil 1-2 minutes or till the cheese melts and is bubbly.
Garnish each serving with a dollop of sour cream and a little cilantro. Enjoy!