Teriyaki Chicken Rice Bowl for One
gailanng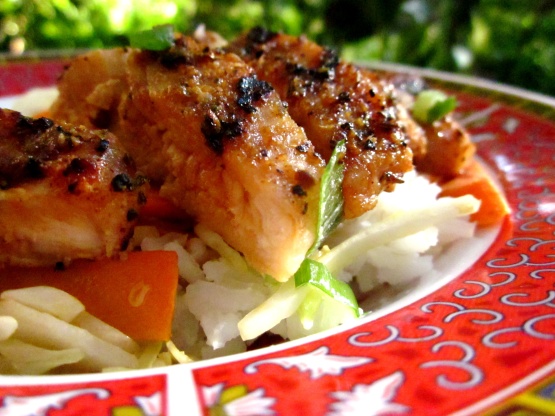 So simple and makes for a good hot meal for lunch or dinner. Easy enough for a teen or college student to prepare. Also, good to use up those odd and end pieces of veggies. I used the least amount of cook time, but that would depend on how the chicken is cooked.

I didn't stick to this recipe very well, but used it as my base. I used a bag of stir-fry vegies, pre-cooked grilled chicken strips from Costco and a bottle of Aloha Mango/Pineapple Teriyaki sauce. The longest part of the cooking time was spent on the rice, and the results were better than the Teriyaki Bowls I can get at the store.
Grill chicken breast (about 8-10 minutes in a grill pan or skillet) or bake in oven (350° for about 30 minutes).
Pour sesame oil in hot wok or skillet and sauté vegetables for about 3 minutes.
Mix teriyaki sauce and a few drops of srirachi chili garlic sauce together. Chop chicken breast into slices and pour teriyaki sauce over chicken. Place rice in the bottom of a large bowl. Put sautéed vegetables over rice. Top off bowl with seasoned chicken. Garnish with sliced green onions and/or sesame seeds.