Tapioca Pearls in Rose Jelly
Satyne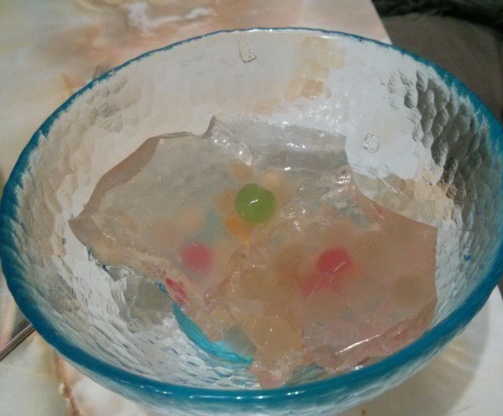 I found some really cool rose cooking wine and decided to make a dessert recipe with it. I got my base recipe here. The use of agar agar is something I wouldn't have even known about without seeing this site. http://www.kh-foods.com.tw/pro_recipes2.htm There is also some great information about it here http://www.wikihow.com/Use-Agar-Agar
Cook tapioca pearls until translucent; cool.
Place agar agar in pot with water and let stand for few minutes.
When the agar agar has become sticky, add sugar and start to cook. Boil for 7-8 minutes, until the liquid has reduced to about one third of the original amount. Stir in the rose wine.
Put the pot in a cold water bath and continue to stir as the mixture cools.
When cool strain the tapioca pearls and add to the agar agar.
Place the mixture in a mold and allow to cool in the refrigerator or an ice water bath.