tanz674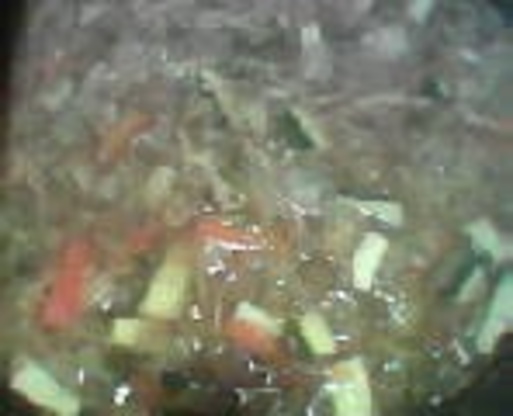 I had some left over roast chicken one day and threw it in a wok and added any and all vegetables i had. It turned out awesome and i have been making it now on a regular basis. The hubby loves it!! :)
500

g chicken (cooked)
1⁄4-1⁄2 cabbage (thinly shredded)

2

zucchini (sliced in thin strips)

2

carrots (grate one and thinly slice the other)

1

cup broccoli (chopped)

1 -2

stalk celery (optional)

2

chicken stock cubes
salt and pepper (to taste)

1

teaspoon minced garlic
1. Break up chicken into small thin strips place in wok, add shredded cabbage.
and cover with water sprinkle curry powder over and salt and pepper. Add any.
other vegetables you wish to use and bring to the boil slowly then cover and.
reduce to a simmer. I like to add more curry powder throughout the day until i.
think the taste is perfect when adding more curry powder add more salt and.
pepper. I also simmer mine all day to bring out the best of the flavours but.
this dish is ready to serve once vegetables are cooked. Serve with rice or.
noodles.