Tagine With Chicken and Quinces
awalde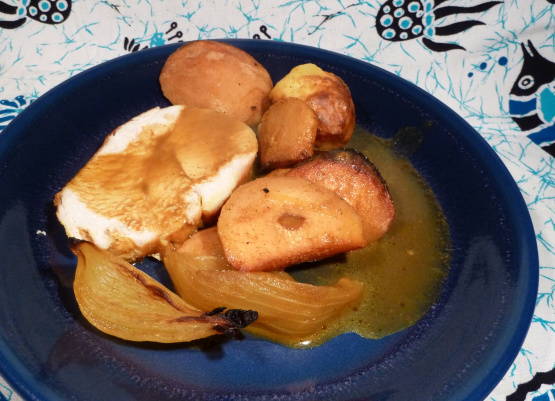 Maroccan style dish. This is something that can be prepared in advance. You'll have more time for your guests. Serve with couscous or fresh homemade bread.

This was a very good dinner experience. After talking with awalde I replaced the quince (which I have never seen in this part of the world) with Granny Smith apples, aded for the last 20 mins of cooking. The spicing makes this dish what it is. This is full of lovely flavor and texture. Served with whole wheat couscous and a small green salad. :D
1

chicken, skinned and cut in eight pieces (alternative 1 kg turkey meat)

3

onions, medium size, cut in rings

8

quinces, peeled, cored and sliced

200

ml chicken soup base

1

teaspoon red pepper, ground

1

teaspoon coriander, ground

1

teaspoon ginger, ground

1

teaspoon turmeric powder

1

teaspoon cinnamon, ground (or one cinnamon stick)
Roast gently the pieces of chicken or turkey with 1 tablespoon of butter. Put aside.
Roast the onion rings in 1 tablespoon butter.
Join the meat and the onions in a pot with lid (for example a "Römertopf") with the soup base, the spices and the salt.
Cook covered for 30 minutes at 200°C (heat and timing are basing it on convection oven).
In the meanwhile roast the quinces with the remaining butter until golden.
Put gently the quinces over the chicken and the other ingredients.
Cover and cook for another 30 minutes.
Serve hot in the pot and enjoy.
To this recipe you can add: potatoes, carrots, zucchini, tomatoes, fresh cilantro, dried apricots, raisins, -- .