T. G. I. Friday's Mudslide
Dine Dish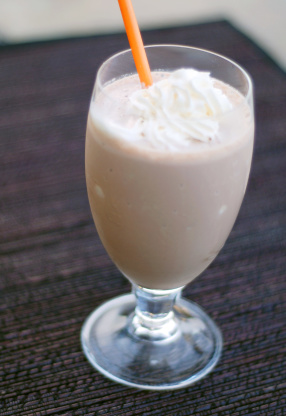 Made this last year for July 4th and our neighbor stole a quart for herself. Used milk and a 3-gallon tub of vanilla/chocolate swirl ice-cream to cut costs. All the neighbors are buying the ingredients so I will making gallons this 4th for our block party, it won't last long. It didn't mix well if I had more than 4 cups of liquid in my blender at a time so I had to be a little patient when mixing a lot at a time. For ourselves, we added chocolate syrup and whip cream and hazelnut chocolate powder (for coffee) on the top, yummy. Thank you for sharing the recipe.
Crush ice cubes in blender.
Add remaining ingredients.
Blend on high for 45 seconds. Serve in Hurricane glass.