Sylvia Sebastini's Bean and Tuna Salad
This came from my grocery store. Very good -- nice change of pace from mayo-tuna salads. I like it on a bed of lettuce with some sliced cucumbers.
Directions
Drain and rinse beans in colander.
Mix all ingredients together.
Chill if desired.
Most Helpful
This was my lunch today, and it was quite tasty. I did not use kidney beans, but cannellini beans (personal preference). I also used the packet of albacore tuna. The flavors blend very nicely. Thanks for posting this healthy recipe.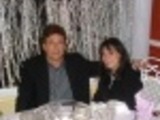 4 1/2 stars. A good late night snack when I hadnt eaten dinner. Pretty healthy and quick. I used a 19 oz can of kidney beans I believe. Instead of red onion I used shallots. I used extra virgin olive oil for the oil and apple cider vinegar with the mother in it instead of wine vinegar as we do not use this kind to please God. I used sea salt for the salt and freshly ground black pepper. I could make this again. Made for Think Pink Tag.

I made this for lunch today and I was very pleased with it. Everything was already on hand so no shopping and it was so quick to put together that it didn't even feel like I was useing a recipe. The onlt thing I did differently was to use only 1 1/2 tsp of oil and 3/4 ths vinegar. I placed my portion of the salad on some butter lettuce and it was nice to look at and even better to eat. This will be an often made lunch. Thank you pine for this suggestion.