Sylvia Sebastini's Bean and Tuna Salad
This came from my grocery store. Very good -- nice change of pace from mayo-tuna salads. I like it on a bed of lettuce with some sliced cucumbers.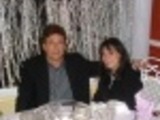 This was my lunch today, and it was quite tasty. I did not use kidney beans, but cannellini beans (personal preference). I also used the packet of albacore tuna. The flavors blend very nicely. Thanks for posting this healthy recipe.
Drain and rinse beans in colander.
Mix all ingredients together.
Chill if desired.