Sweetcorn and Red Pepper Salad
Redsie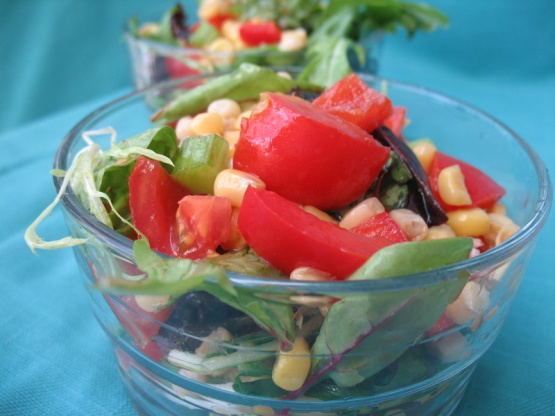 From a book called The Goodness of Peppers. It suggests serving this colourful, crunchy salad in late summer when peppers, tomatoes and corn are all at their sweetest and most succulent.
Remove all the husks and fibres from the cobs and slice the kernels off the cobs.
Put the kernels in a pan with some water and bring to the boil. Cook for about 8 minutes or until tender. Drain well and reserve.
Remove the caps, pith and seeds from the peppers and finely chop the flesh.
Combine the corn, peppers, celery, garlic, tomatoes, rocket and parsley in a large bowl and mix thoroughly.
In a small bowl, whisk the olive oil, vinegar, salt and pepper together. Pour over salad.
Sprinkle Parmesan shavings over salad and serve.