Sweet and Sour Cucumber Salad
Pneuma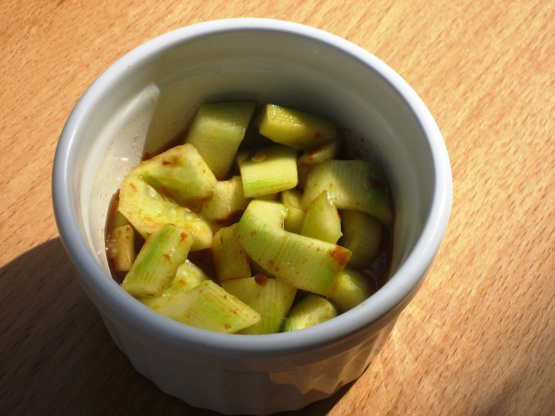 This has a light spiciness to it, but if you like it even more, adding a few flakes of crushed red pepper makes an interesting addition to this salad.
1

teaspoon salt

2

teaspoons beet sugar (or granulated sugar)

1

tablespoon rice vinegar

1

teaspoon hot chili oil

1

tablespoon dark sesame oil
Peel the cucumber and halve lengthwise; scrape out the seeds and cut into thick chunks.
Place chunks into a bowl and toss with the salt.
Allow to rest for 30 minutes.
Mix together the sugar, rice vinegar, chilli oil, and sesame oil in a small dish.
Add mixture to cucumers, and stir until cucmbers are evenly coated.
Serve chilled.