Sweet and Sour Cipollini Onions
ChefLee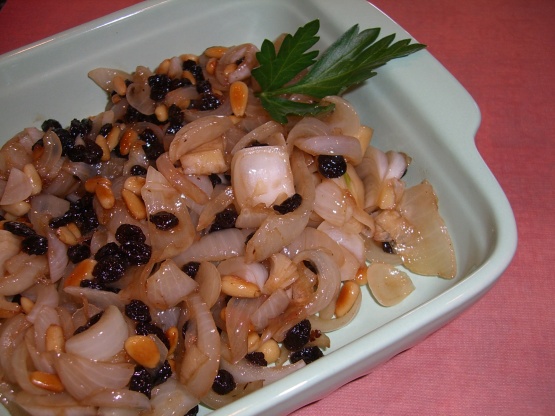 Cooking Light Jan 2008. Pearl onions may be substituted for the cipollini onions. "Dishes with sweet and sour notes are common in Venice, but not in the rest of Italy."
Place raisins in a bowl; cover with 1/2 cup hot water. Let stand 30 minutes or until plump. Drain.
Trim top and root end of onions. Cook onions in boiling water 2 minutes. Drain. Cool and peel.
Melt butter in a large nonstick skillet over medium-high heat. Add onions to pan, stirring well to coat. Stir in 3 tablespoons water, red wine vinegar, sugar, salt, and black pepper.
Cover, reduce heat, and cook 40 minutes, stirring every 10 minutes. Add raisins and pine nuts to pan. Increase heat to medium, and cook, uncovered, 10 minutes or until lightly browned and liquid almost evaporates, stirring occasionally.