Evie3234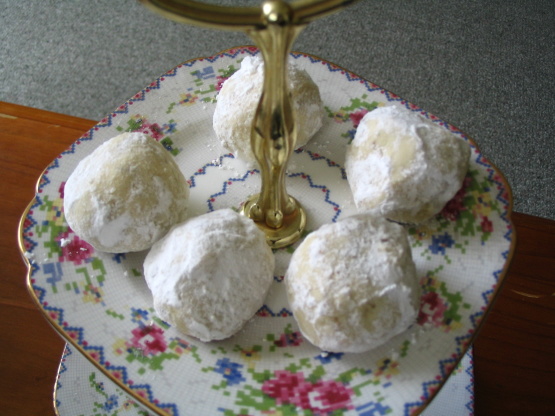 I received this recipe back when I was in the 7th grade in my homemaking class and I have somehow managed to keep it this long. I guess the recipe is just that good. I make these cookies for Thanksgiving and Christmas and if I even think about skipping one year I get in trouble from my husband and friends!

Top Review by Bivit
This is a great recipe for kids, we had such fun making them. My two year old peeled all the wrappers off the kisses and the four year old helped roll them into balls. They taste delicious the only changes I made was to add a little less flour(did 2 1/4 cups) and omit the pecans because the kids don't care for nuts. I've always loved the cookies with the kiss on top but these are better because the kiss stays very soft and does not burn. Thanks for posting, it's a keeper!
Preheat oven to 375 degrees.
Cream together butter, sugar and vanilla in a large bowl until fluffy.
Gradually add in the flour and chopped pecans.
Take about 1 Tbs.
of the dough and roll into a ball.
Press the dough down in the palm of your hand.
Take a Hershey's Kiss and place it in the middle of your dough.
Bring the sides of the dough up and around the Hershey's Kiss.
Once the candy is completely surrounded by the dough, roll it again in the palm of your hands until a ball forms.
Repeat this step until you use all of your candy or until all of your dough is gone.
Place cookies on an un-greased cookie sheet and bake for only 10-11 minutes.
Once cookies are completely cooled, roll them in the powdered sugar and ENJOY!