Super Sleuth's Secret Summer Wine Cooler - for Twissis!
twissis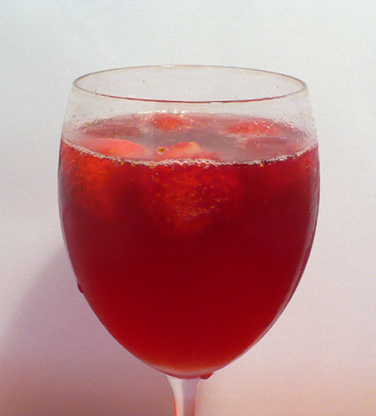 A special drink that I made up for our wonderful cheerleader, who cheered the Cafe ZMAKK Gypsies on during ZWT4.......Twissis, this is hopefully a new wine cooler recipe for you, with a bit of a twist, TWIST eh?? Too funny! Enjoy it whilst revelling in almost 24 hours of sunlight in Iceland during the summer........maybe pop in a FRESH blueberry or two for a dramatic change! Serve this with a TWIZZLE stick and twirl the night away. (The preparation time is for the strawberries to freeze.)

I echo Gypsy Sarah, altho for me it will be more than summer fare. Altho not my intent, DH bought a sparkling red wine from Chile that advertised itself as infused w/a strawberry flavor. Altho the strawberry flavor became more prominent, the peach flavor was also strongly present & the combo yummy as we celebrated our wedding anniversary last wk. TYSM for honoring me w/such a great way to celebrate *all spec occasions* . :-)
4 -6

strawberries, hulled and wiped clean

25

ml peach schnapps
champagne, chilled
Put the strawberries into the freezer, when they have frozen solid, place them in the base of a champagne flute.
Pour in the peach schnapps, then fill to the top of the flute with chilled champagne.
Serve, and then log in to Recipezaar for a "fix" or relax!
(In leaner times, chilled Chablis, Chardonnay or a white sparkling wine can be used in place of champagne.).