Super Easy Chocolate Truffles
Tisme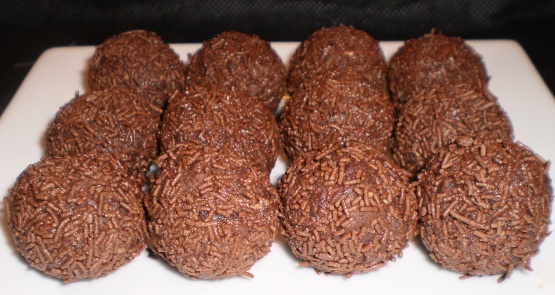 This is a wonderful truffle recipe: It's very quick to put together and still tastes like a ton of work went into it. It can be easily varied by subbing any other alcohol or flavoured-syrup for the rum.

Top Review by ImPat
Sorry to say I think I ruined these, made for the DS to take to music recreation group and no alcohol allowed so I used rum essence but used a full tablespoon (should only have used a 1/2 teaspoon I think) so they reeked of rum and I think ruined them. I got 15 out of the mix making them to fit the smallest paper patty cases I could get, covered some in coconut and the others in a mix of crushed, peanuts, macadamis and almonds. Will make again but will get the petite for cases and only use 1/2 teaspoon of rum essence. Sorry Lalaloula for they did look so good. Made for Edition 8 - Make My Recipe.
150

g milk chocolate

50

g soft butter

25

g sweetened cocoa powder or 25 g instant hot chocolate powder

1

tablespoon rum

For garnish

chocolate, granules
sugar candy sprinkles
cinnamon sugar
desiccated coconut or flaked coconut
chopped nuts
Take 125g of the chocolate and grate it finely (Use a piece of paper to hold the chocolate so that it doesnt melt under your fingers). Chop the remaining 25g into small pieces.
Cream the butter (I used a spoon, but you may also use a hand-mixer). In portions add the grated and chopped chocolate as well as the chocolate/cocoa powder and the rum.
Form balls (about the size of a hazelnut) out of the mass (wash your hands with cold water if they get too warm to form the balls without melting all the chocolate) and roll them in your desired garnish (see above).
Place in candy wrappers and store in a box in a cool place (these will keep for up to 8 days).