Sunset Magazine's Greens With Pink Grapefruit and Borage Flowers
Rita1652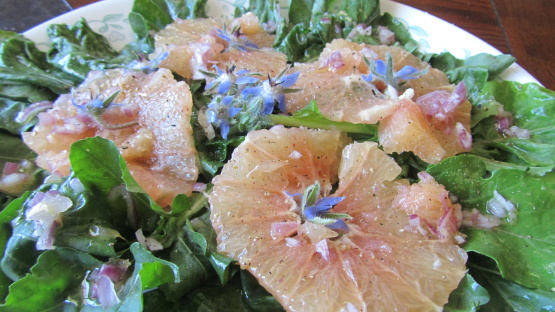 From our April 2011 issue of Sunset Magazine. The original recipe specified fava greens although I could not locate fava greens anywhere in town (fresh fava beans not the leaves unfortunately). In its place-fresh baby arugula from our local farmers' market . I think other greens such as watercress, mache, heirloom lettuce, baby spinach, etc would work well in this salad recipe. The flowers of lavender, rosemary, mustard, chives, etc. or other various edible herbs can be substituted for the borage flowers if the latter is not available. Simple elegance and very pretty!
Dressing

2

tablespoons roasted walnut oil (I used walnut oil) or 2 tablespoons extra virgin olive oil (I used walnut oil)

1

tablespoon minced shallot
1⁄4 teaspoon kosher salt (reduced from 1/2 teaspoon)
1⁄4 teaspoon pepper

Salad

8

cups greens (tender greens and lightly packed)
borage fresh edible flower (be sure the plant has not been sprayed with pesticides)
Zest 1/2 grapefruit, then cut off outer peel and membrane from both the grapefruits.
Slice [3] of the grapefruit halves into thin rounds. Juice the remaining grapefruit half.
In a small non-reactive glass measuring cup combine grapefruit zest, the reserved grapefruit juice, oil, shallot, salt, and pepper in a bowl and whisk to blend.
Toss greens with the dressing. Reminder: do not toss the dressing with the greens until [just] before serving, or the greens will become soggy and wilt.
Spoon greens onto plates and arrange the grapefruit slices around the edges of the plates.
Scatter a few borage flowers on top of each serving.