Bergy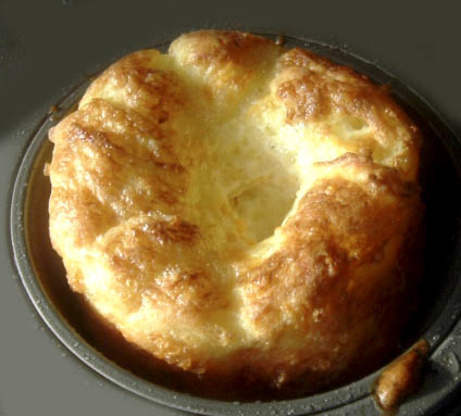 Beachie this are tops and a definite keeper!!! I used Vermont white sharp cheddar and they were fantastic!!! Anyone making these cannot go wrong or they just can bake at aaaaalllllllll.........
Yummy is the word and impressive!!! Got raves!!! Always, Jelly XO
P.S. Follow the directions and you can't miss.
Preheat the oven to 375 degrees F.
Place eight 6-oz custard cups on a large baking sheet.
Spoon 1 1/2 tsp of shortening into the bottom of each custard cup and set aside.
Combine the flour and salt in a large bowl, then gradually stir in the milk and water until well blended.
Beat in the eggs, 1 at a time, beating until smooth after each addition.
Fold in the cheddar cheese.
Place the baking sheet with the custard cups in the preheated oven for 3 to 5 minutes until the shortening melts and the custard cups are hot.
Fill the custard cups 1/2 to 2/3rds full with the batter.
Bake for 45 minutes in the preheated oven, without opening the oven door until the popovers rise and turn golden brown.
If not golden brown after 45 minutes, bake for an additional 5 minutes.
Serve piping hot.