Sunny-Side up Brunch Egg and Bacon Casserole
Nimz1466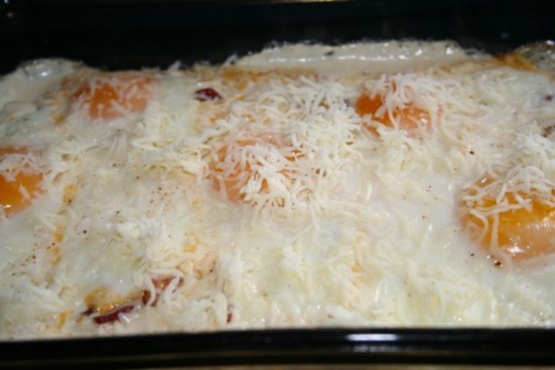 You can divide the eggs and serve them on English muffins if desired. Cooked ham slices can be substituted for the bacon if desired. Cooking time does not include cooking the bacon.

Kitz you have another fantastic, easy and delicious recipe in this one. I made as directed, decreasing the amount for the two of us. The eggs turned out perfect at 10 minutes. I forgot to add the paprika and parsley because Dave was breathing down my neck to eat. Thanks for a wonderful breakfast.
Set oven to 425 degrees.
Set oven rack to bottom position.
Butter a 13 x 9-inch baking dish.
Place the bacon in one layer into the bottom of the buttered baking dish, then sprinkle with Swiss cheese (make certain to only use half-cooked bacon for this, do not cook until crisp).
Break the eggs carefully over the cheese spacing evenly.
Whisk the whipping cream with cayenne pepper, salt and black pepper, then pour over the eggs.
Bake in a 425 degree oven for about 10 minutes or until set.
Remove from oven the sprinkle with Parmesan cheese; let stand for about 8-10 minutes before serving.
Sprinkle with fresh chopped parsley.