Sunny Cream of Cauliflower Soup
Rita1652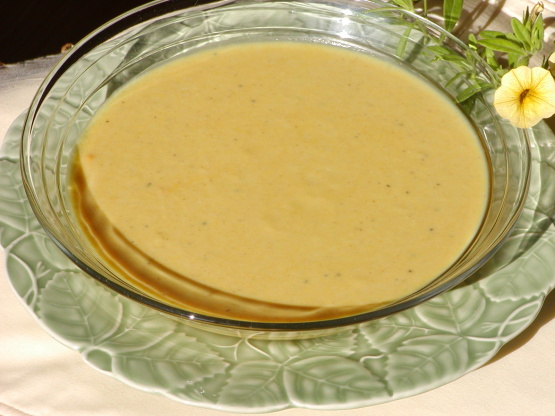 Creamy,Rich,Curry Flavored soup. A good way to use left over cauliflower! Curry lovers go for more curry if you like! If you like drizzle finished soup with extra virgin olive oil or top with a tad of butter!

Definaltely a 5* soup. I cut the recipe in half and there was still loads for two of us, once for supper and 3 times for lunch!! We loved the curry and a touch of hot sauce. I did make one change, instead of the cream, i used all 1 cup of 2% milk, loved the colour the tumeric adds to the cauliflour!! Will be making this again this winter, great payback!
Heat oil in a large pot.
Saute onions, garlic, brown sugar, salt and pepper till translucent.
Add cauliflower and stock cook till fork tender.
Puree in vita mix or blender Return to pot with rest of ingredients.
Season with salt and pepper if needed.