Sunday Plastic Wrap Roasted Pork for Pulled Pork or Carnitas
judijo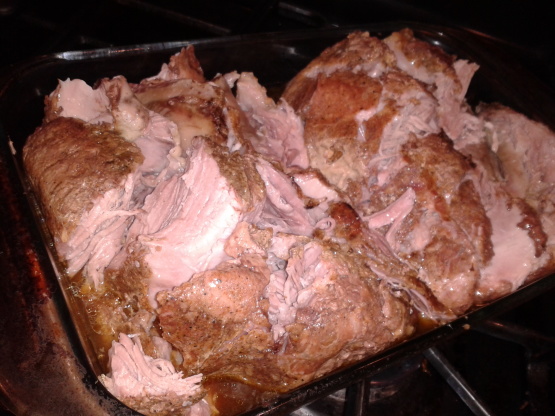 Did you know simple grocery store plastic wrap does not begin to melt until after 400F degrees? I didn't either until I heard Chef Robert Irvine tell that fun fact to a restauranteur. I had already made baby backs using this method, which worked GREAT...but this was my first attempt at cooking a full-on roast. Season and wrap the meat Saturday morning and put it in the oven Saturday night before bed. You will be rewarded Sunday morning.

A great recipe that was a hit with the whole family. I didn't use the outlined cooking suggestion with plastic wrap and foil, but rather cooked it in a crock pot for about 10 hrs on low--it turned out great--very moist and tasty. The pork shoulder I had was about 3-4 lbs so I used only 1/2 portions of the spices, and only about 3/4 tsp of black pepper. We will be making this one again!
Rinse/dry roast. I clean and rinse a kitchen sink well with a bleach product (Comet) and use that for my "rub bowl". Stab the roast with a sharp knife all over all sides, so the spices get into the meat.
Combine all spices and herbs in a bowl. Please feel free to add brown sugar (if you want more BBQ pulled pork flavor) or more "mex"spice (for carnitas flavor).
Rub the roast well.
Lay out a sheet of plastic wrap large enough to cover the roast. Place and cover the roast. Repeat 4 or 5 times, pivoting and turning the roast over so it will be sealed from all angles and ends.
Lay out and form sheets of aluminum foil to completely envelope and seal your package. Place in large baking dish and refrigerate for at least 4 hours.
Before bedtime, set oven to 225F degrees. Place the dish in the oven and walk away/sleep for a minimum of 8 hours.
Remove dish from oven after a good night's sleep. Let rest for 45 minutes while you drink your coffee and have a nice breakfast.
I drain the fat that accumulates in the dish (notice, because of the low heat, there is no scorching on that dish) then replace the roast. cut away the foil/plastic wrap, letting the juices fall back into the dish. Now you can cut or shred the meat as you wish.
Enjoy!