Debber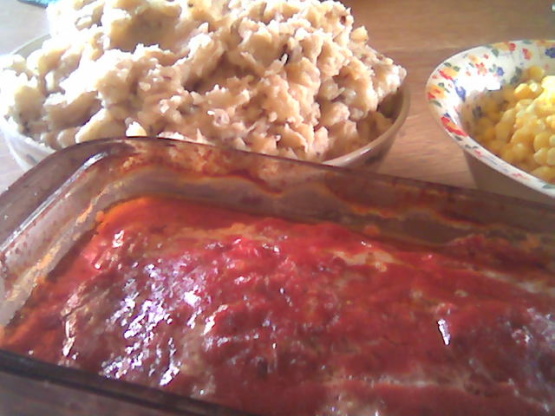 This is a great staple that is quick to prepare and popular with the family.

Top Review by Debber
This was really good--even if we had it a day early (Saturday!). :-) Served it with Recipe #187003 as part of *PAC Spring 2007* . What a great meal! I used 2# of home-grown hamburger, home-made breadcrumbs, home-grown fresh eggs, and home-grown & -made spaghetti sauce! YUM!!! With 2# of burger I ended up with an extra loaf--made in a mini-loaf pan (I froze it to give to my mom). Leftovers made GREAT sandwiches for DH and DSs lunches on Monday. The only "problem" was that as mentioned in the directions, it was a bit soupy, so added a few extra breadcrumbs--not a problem anymore! I think this could also be converted to a meatball recipe very easily, too. *Made for PAC Spring 2007*
Preheat oven to 350°F.
Set aside about ¼ of the spag sauce to go on top of meat loaf.
Add all seasonings into the beaten eggs, then add remaining ingredients, meat last.
Mix with hands until well combined. It should not feel too wet or sloppy otherwise it won't serve well, but not too stiff either or it will be dry and tough.
Use bread crumbs or more spag sauce to adjust.
Press into a medium loaf pan, spread remaining spag sauce on top and bake for about an hour or 1 ¼ hours
Will be cooked when juices are bubbling clear. Let completely cool before removing from pan.