Tona C.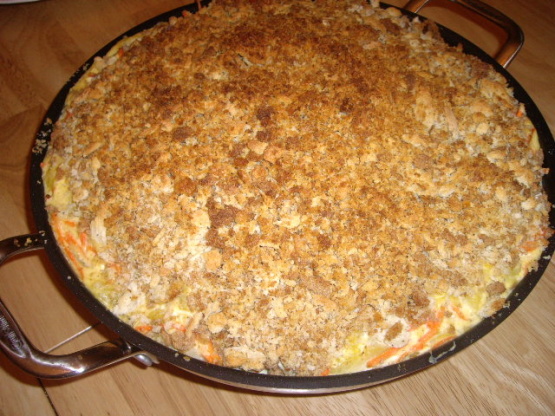 This is a very easy and very tasty side dish that goes well with poultry, beef or pork. Try serving it instead of potatoes or stuffing. From the kitchen of Tona Thornburg Court, Bridgeton MO.
In saucepan, cook cubed squash and onion in boiling salted water for 5 minutes; drain.
Combine cream of chicken soup and sour cream. Stir in shredded carrot. Fold in drained squash and onion.
Combine stuffing mix and butter or margarine. Spread half of stuffing mixture in bottom of 9x13 baking dish.
Spoon vegetable mixture atop. Sprinkle remaining stuffing over vegetables.
Bake in 350 degree oven for 25-30 minutes or until heated through.
OPTIONAL: Brown 6 pork chops in skillet. Then transfer to baking dish. Add the Summer Squash Casserole layers as indicated above and bake.