BecR2400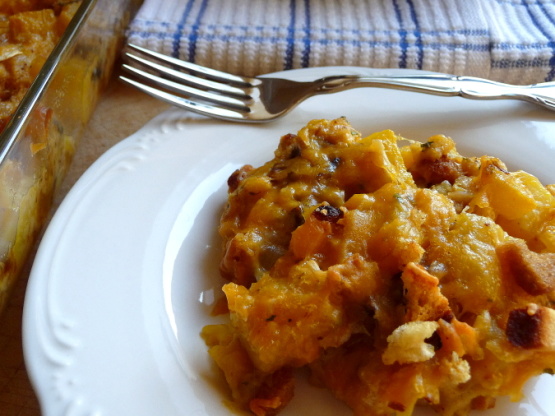 This is probably loaded with calories but it is also loaded with flavor. It is nice when your garden gives you a lot of squash and you get tired of doing the same old thing with it.

Wow was this good! Our neighbor provided us with these beautiful homegrown Italian crookneck squash, and I am so glad to have found your recipe! Made a couple of changes, using what I had to hand. Added some fresh baby bellas and used cream of mushroom soup, and topped with a little grated cheddar cheese; also did not have any carrots. A really wonderful comfort dish that I look forward to making again. Thank you, Mimi in Maine!
6

cups summer squash
1⁄4 cup chopped onion

1

(10 1/4 ounce) can cream of chicken soup

1

cup sour cream

1

cup shredded carrot

8

ounces seasoned stuffing mix
1⁄2 cup butter (melted)
Cook the squash and onion in some water for 5 minutes; drain well.
Mix together the soup and sour cream.
Stir in the shredded carrot.
Fold in the squash and onion.
Combine the stuffing mix with the melted butter; mix well.
Spread one-half of the stuffing in 7 1/2" x 12" pan.
Add the squash mixture.
Then add the rest of the stuffing on top.
Bake 350 degrees for 25-30 minute.