Sumi Salad (Asian Cabbage Salad)
Parsley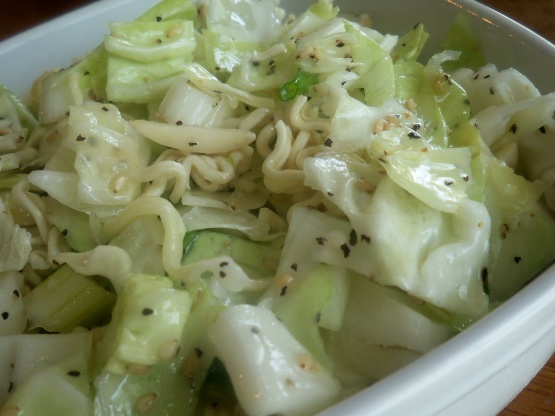 A crunchy, refreshing salad with unusual flavor. This recipe was given to me by my friend Joan Truman. If you are fortunate enough to live near a Japanese market, purchase Nissen ramen noodles. They come in a red and gold package. The only word I recognize is Nissen; everything else is Japanese. These noodles do not come with a flavor packet as the seasoning is already in the noodles. Although you can use regular ramen noodles with seasoning packets, I prefer the taste of noodles that are already seasoned.
I'm rating this as I make it, not as described though I use same ingredients. I don't make ahead as the cabbage gets mushy and I strongly recommend buying Albertson's shredded cabbage, for some reason it just tastes so much better than when you chop your own. It's actually one of my favorite salads! It doesn't matter what flavor Ramen you use as you discard the flavor packet anyway. We buy a case at Costco for about $3 and it lasts us a while... I put dressing & salad (almonds, ramen, sesame) in a bag & shake it up just before serving. There are never any leftovers... Don't try to save it if there are, it doesn't keep. Very yummy stuff!
Dressing:.
Mix sugar, rice vinegar and salt together in small saucepan. Heat over medium until sugar and salt dissolve. Let mixture cool and then combine with remaining dressing ingredients. Set aside.
Salad:.
Heat 2 tablespoons oil in skillet. Toast almonds and sesame seeds until lightly browned. Combine with onions, cabbage, and dressing. Approximately 30 minutes before serving, crush ramen noodles in their package and combine with salad.
Note: This salad is best if you make it the night before you plan on serving it. The sweet and salty flavors develop overnight and although the cabbage softens a bit, it still retains it's crunchy texture. A good summer salad for picnics since it travels well and doesn't contain mayonaise.