Sugar Cookies to Roll or Not
COOKGIRl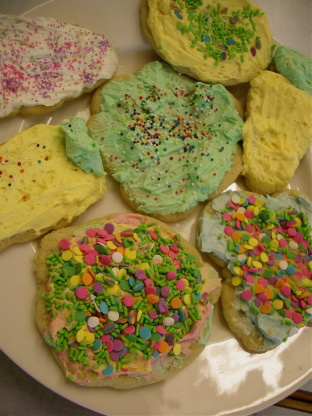 A recipe that my Mom got off a bag of flour. I am typing it as the drop cookie method (that's the way I made them). For roll and cut-out version sub 1 1/2 cups POWDERED sugar for the granulated sugar.

We used the roll method for these cookies and they turned out perfectly. I added 1 teaspoon of vanilla extract (I like vanilla!) Thanks for posting this easy cookie recipe. The difficult part was rolling out the dough. Have dough at room temperature at least 30 minutes prior to rolling. Thanks, Parsley!
Preheat oven to 350. Lightly spray cookie sheets w/ nonstick spray.
In a mixing bowl, beat together granulated sugar and butter. *If planning to roll and cut out, use 1 1/2 cups of powdered sugar instead.
Beat in the extracts and egg.
Sift together flour and baking soda; gradually beat into the creamed mixture.
Drop by rounded spoonfuls on to the cookie sheets.
Place some extra sugar on a plate. Dip a flat-bottomed glass in the sugar and lightly flatten the dough.
Bake at 350 for 8-9 minutes or until edges just slightly turn golden.
*If doing roll out method, chill dough for at least 3 hours. Roll on to lightly floured surface to about 1/4" thick. Cut out with cookie cutters and bake 9-11 minute.