Sue's Quick N Easy Banana Pudding
Junebug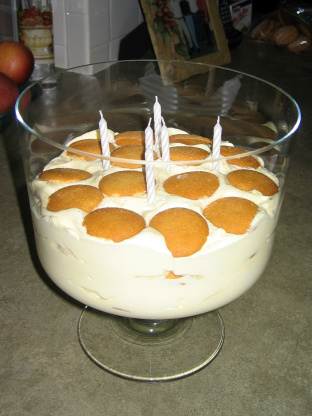 This came from my friend, Sue. It's similar to others posted, but uses more pudding and water rather than milk. It's very quick to assemble and sets in the fridge in about 5-10 minutes.

This has got to be the easiest and best banana pudding I have ever made! I was concerned about using water instead of milk, every other banana pudding recipe calls for milk, but I made it exactly as you listed it. Perfect texture, perfect taste! Thank you!
Put the condensed milk and the water in a bowl and mix well.
Add the box of instant pudding and stir until well combined.
Chill about 5 minutes until set.
Fold in cool whip.
Layer pudding, cookies, and bananas 2 or 3 times, depending on the size and shape of your serving dish.
Keep in fridge until ready to serve.