Stuffed Portabella Ala Cajun
Rita1652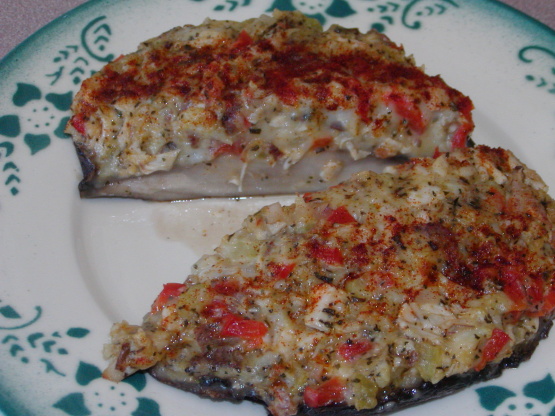 One of the best trips I have been on was driving to Louisianna with my two sisters. We went specifically to see the Acadian settlements and it was thrilling to see all the names were the same as in my background from the Acadian part of Canada. So this recipe is named in honor of all my Acadian relatives. Creole seasoning is a blend of garlic, salt, paprika, cayenne, basil and thyme in equal amounts. The chicken could be poached if no steamer (keep water just below boiling point.. cook chicken in garlic flavored water until juices run clear)
Preheat oven to 325.
Wipe outside of mushrooms gently with damp cloth.
CHICKEN.
Rinse chicken with cold water and pat dry.
Use microwave steamer or stovetop steamer.
Put 6 cloves smashed garlic in water.
Place chicken in steamer portion.
Sprinkle with garlic salt.
Cover, cook until juices run clear (5 minutes in micro).
When done and cooled a little, put thru food processor or chopper until finely chopped.
Set aside.
POTATOES.
Wash, cut in half and boil until fork tender.
Peel and mash thoroughly.
Add milk and 1 teaspoon butter to potatoes.
Whip until smooth.
Set aside.
COMBINING.
Heat saute pan and add 1 tablespoon butter and 1 tablespoon EVOO.
Saute shallots, peppers and celery for 2 minutes.
Add wine and reduce for 1 minute.
Stir in chicken.
Stir in basil, Creole seasoning, salt and pepper.
Mix in potatoes.
Rub EVOO on outside of mushrooms.
Place open side up on baking sheet and spread half of chicken mixture on each mushroom.
Bake at 325 for 15 minutes.
Sprinkle with Paprika.
Serve immediately.