Stuffed Eggplant (Aubergine) Slices
Debbwl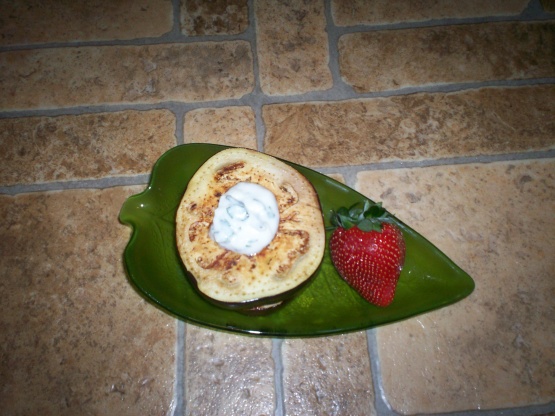 These eggplant slices, stuffed with tomato slices, feta and capsicum, make a great starter for a Greek-style meal or if you want to make them part of a complete meal, serve them with pita bread, a Greek salad, potatoes, such as Herbed Potato Crisps, olives and a selection of dips. I am posting this recipe, from one adapted from an International Masters '1001 recipes for pan or wok' recipe card, for the 2005 Zaar World Tour.

The recipe itself tastes yummy in the end, but I think I would recommend the following: 1) The instructions say 16 pieces, but depending on the size of the eggplant the pieces might turn out too thick/thin. Having an even number to make the sandwiches is good to keep in mind. If you can't make 16 slices, for thickness, I found the ones I cut between 1/4" and 1/2" came out the best 2) The eggplants leaked tons of water at the end and were too flimsy to pick up by hand (not sure if they are meant to be picked up). I think I might try "sweating" them beforehand next time. But these two things are minor complaints, the recipe is worth making!
Combine the yoghurt, mint and lemon juice in a bowl, season and set aside.
Crumble the feta cheese.
Finely slice the tomatoes, cut the capsicum into strips and trim the eggplant and cut into16 slices.
Brush both sides of the eggplant slices with oil, season, heat a large, preferably non-stick, pan over a medium heat, add the eggplant slices and sauté on one side for 2-3 minutes or until golden. Remove the eggplant slices from the pan and set aside and repeat the process with the remaining eggplant slices.
Arrange 8 eggplant slices on a work surface, sautéed side up, and top with the tomato slices, the feta cheese and the capsicum strips, then add the remaining 8 eggplant slices, sautéed side down. Be careful NOT to overfill the eggplant "sandwiches".
Add some more oil to the pan and being careful that the filling does not spill out, place the eggplant "sandwiches" in the pan and sauté on each side for 2-3 minutes, brushing with more oil if required.
Garnish the slices with sprigs of mint and serve them with the yoghurt sauce.