Stuffed Avocado California Style (Pseudo Sushi)
Rita1652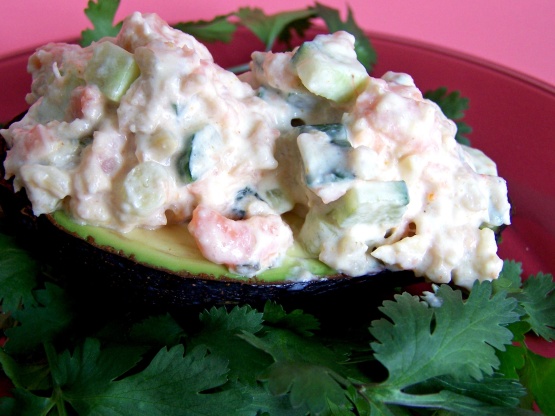 This is an avocado half stuffed with the same ingredients that are in a california roll. My favorite part of the roll is the avocado, so this is my way of getting all the avocado taste I want.

This is an excellent recipe. I also made some adjustments for personnel preference. I omitted the rice (only because I wanted the salad now and was too impatient when it came to cooking it). I cut the avocado up and mixed it into a salad form (easier for my toddlers to eat). I added a little more ginger, wasabi and mayo just for taste. Lastly, my family absolutely loves dried seaweed so I took a couple of sheets of seaweed and cut them into thin strips I then mixed them into the salad. Thank you so much for a fast easy and YUMMY meal.
Slice avocado in half and remove pit.
Mix together remaining ingredients.
Stuff into avocado half, garnish with sesame seeds and enjoy.