alligirl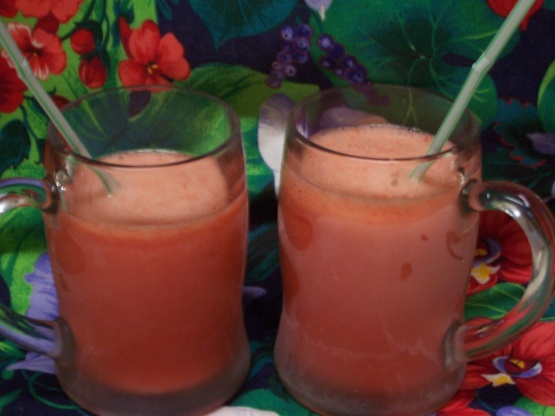 Don't let the heat get you down. Mix up a batch of this, and you'll be surprised how quickly you cool off. Adapted from Bon Appetit, August 1985.

OK, this is dangerous! I love how easy it is, and the tart taste. I used a tbsp. of confectioner's sugar, a mixture of coconut rum and Bacardi 151, so mine are potent! Thanks, JackieOhNo, for sharing an easy afternoon cocktail>or by the pool, on the porch, on vacation, etc.! Made for ZWT 5.
Combine 1/2 can limeade, 3 oz. rum, 1/2 pint strawberries and 1 T. sugar in blender. Mix at medium speed, adding 7 ice cubes 1 at a time until smooth and very thick. Pour into large pitcher. Repeat with remaining ingredients except lime slices. Add to pitcher and stir to blend well. Garnish with lime slices and serve.