Glori-B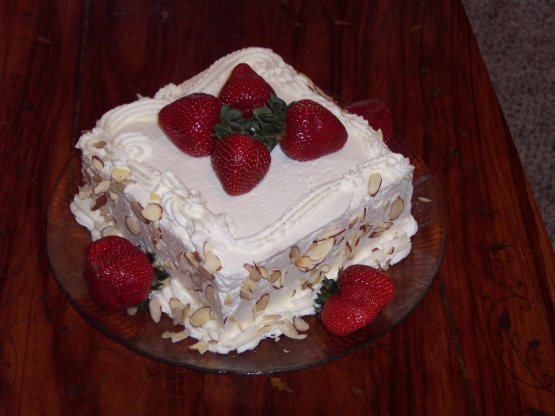 Posting as a request. A variation of the Sicilian dessert. Cook time listed is pretty much just for assembling the cake.

Top Review by Lorac
Excellent! A spectacular yet easy to make dessert (no cooking). I'm not fond of ricotta but it added a welcome flavor dimension with the sweetness of the cake and cream. I loved the crunch of the almonds and the small bursts of chocolate from the chips. I used a pound cake that was about 4x10" and was not thick enough to make 6 slices. I cut the cake in half widthwise and each half into 4 slices lenghwise. Two slices side by side fit nicely on my plate. I assembled the cake so that there were 3 layers of filling instead of 2. I was afraid I would have trouble slicing through all the layers but after being refrigerated for 2 hours, it sliced easily. Thanks Rhonda for this decadent way to use strawberries.
In bowl, combine sliced strawberries and sugar,set aside for juice to form.
In large bowl, beat together ricotta cheese, 1/4 cup of whipping cream, half the icing sugar and half the vanilla until fluffy.
Stir in chocolate chips and almonds.
Cut pound cake lengthwise into 6 slices,trimming edges to make even if desired.
Brush layers with any juice from strawberries.
Stir strawberries into cheese mixture.
On square plate if possible, place 2 cake slices, side by side, spread with 1/2 the cheese mixture.
Top with 2 more cake slices, spread with remaining cheese mixture.
Top with remaining cake slices.
Whip remaining whipping cream with remaining icing sugar and remaining vanilla.
Spread over top and sides.
Garnish with strawberries as desired (i. e. cut strawberries in half, stand up on cake with narrow end pointing upwards and garnish with mint leaves in middle, or fashion them in any pattern you may like). You could also use stencils to decorate and add a dusting of cocoa.