dojemi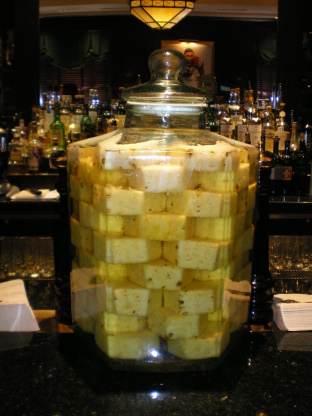 Stoli for Stolichnaya Vodka and Doli for pineapple. Put them together and you've got one potent drink. Depending on the size of your container you may need more (or less) of both ingredients. The idea is to completely cover the pineapple with vodka.

Very good with true pineapple flavor. I used a 750 ml bottle of Stoli and 1 1/2 pineapples. When I made the martinis, I added a bit of citrus flavored vodka to round out the flavor. I also added a few of the infused pineapple chunks to the martini for garnish. I wasn't sure if the leftovers would be good if it continued to sit out, so I froze the leftovers. I haven't tried the frozen stuff yet. I think I'll whirl some (including the pineapple chunks) in the blender for an adult slushie.
Slice the pineapple into chunks and place into a large container, preferably one with a spigot, such as an ice tea jug.
You may not need all the pineapple, just enough to fill the jug.
Pour the vodka over the pineapple using more if needed to cover pineapple.
Cover, and allow to sit for 3 to 4 days, or longer, to infuse the Vodka with the pineapple juice.
To serve, pour into a shaker filled with crushed ice.
Shake well to chill and pour into martini glasses.